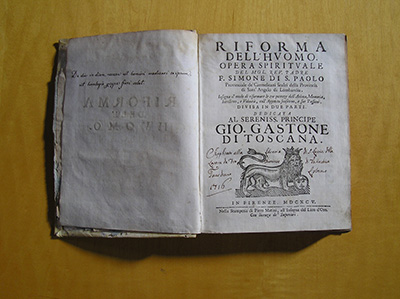 The Rare Book Collection includes about 500 pre-1800 titles, most of them with a Carmelite connection. The oldest book, a controversial work against Lutheranism by the Italian Carmelite Giovanni Maria Verrato, dates from 1538; we also hold the second edition of 1544.
Among items of special interest or importance are the 1748 Italian edition of the works of John of the Cross, with its sixty fine engravings, the most extensive iconographical cycle on this saint, and the 1635 Spanish edition of his works. We also hold the 1600 edition of the monumental commentary on the Psalms by the learned Italian Carmelite Michael Aiguani (d. 1400); the history of the Discalced Reform by its official historian Francísco de Santa Maria (1644); and the life of the blind Carmelite mystic John of Saint Samson by his confrère Donatien of Saint Nicholas (1651). There are especially fine holdings on the great Italian mystic, the ecstatic Carmelite nun Mary Magdalen de' Pazzi (d. 1607), including several editions of her works and of the biography by her confessor and first editor, Vincenzo Puccini (1639, 1652, 1716, 1739, 1754).
We also have a copy of the famous "Breeches Bible" of 1610, ridiculed for its rendering of Genesis 3.7: "and they knew that they were naked, and they sewed figge tree leaves together and made themselves breeches".
Among more recent rarities are a beautiful presentation copy of the popular prayer book The Key of Heaven, and a collection of anti-Nazi articles published by the Dutch Carmelite Amandus van der Weij from 1935 to 1937; because of these writings he was later interned in Buchenwald concentration camp, but he survived the war and died in 1988.